It's National Picnic Week Bread Heads! And come rain or shine we are going to be serving up an excellent picnic spread.
No one wants to be a few sandwiches short of a picnic, so we have come up with some delicious sandwich ideas using our Baker Street Sliced Loaves that would make a great addition to any picnic. Oh, and of course we've also thrown in some oddball sandwiches in there – just in case you fancy a weird but wonderful sarnie!
National Picnic Week Ideas: Oddball Sandwiches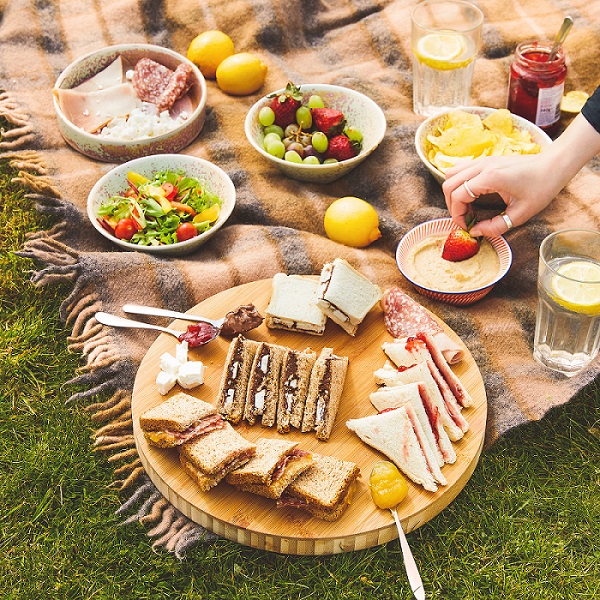 Want to try something new for your picnics this year? Well we have some different -but very tasty – oddball sandwich combos that you just have to try:
• Ham & Jam
• Lemon Curd & Pepperoni
• Feta & Nutella
These may sound like some crazy combos, but trust us when we say they're worth a try!
National Picnic Week Ideas: Classic Sandwiches
Don't fancy trying any of the oddball combos? Or maybe you want some classic sandwiches to go along with the oddball ones? Either way, try adding some of these sandwich ideas to your picnic:
Tuna & Sweetcorn
Ham, Cheese & Tomato
Chicken Salad
Cheese & Ham
Ham & Cucumber
Cheese Salad
Now you've got your sandwiches sorted for your picnic with Baker Street Sliced Loaves, don't forget to take some side dishes. We love to take salad, crisps and dips and some fruit but you can take whatever you fancy to go along with your sandwiches!
If you try any of these sandwich ideas and celebrate National Picnic Week be sure to take a photo and tag us @lovebakerstreet on Facebook or Instagram.
Want more picnic fun? July is officially National Picnic Month so there is plenty of time to try out our picnic sandwich ideas!