It's National BBQ Week Bread Heads (5th – 18th July)! And whether the forecast is glorious sunshine or pouring rain, we are going to be having a BBQ.
Invite your friends and family over for an excellent BBQ spread using our Baker Street Original Burger Buns and Classic Hot Dog Rolls. Want to serve something other than the regular beef burger and hot dogs? Well, Baker Street's got you covered. We've got some weirdly wonderful BBQ recipes that are definitely worth a try!
If you fancy giving any of them a go, you can pick up some packs of Baker Street Original Burger Buns and Classic Hot Dog Rolls from selected Tesco stores nationwide, online at Ocado and from selected convenience stores.
National BBQ Week: Fruity Burger
So we know pineapple on a pizza is a controversial one, but what about pineapple on a burger? Well, we love it! Add some grilled pineapple rings and slices of bacon to your burger for a sweet and salty combo. You could also try it with peaches as well. For extra flavour, we recommend grilling the fruit slices on the BBQ for a few minutes with your burgers.
National BBQ Week: Vegetarian Burger
Want a meat-free burger option? We love this grilled aubergine burger with mozzarella and lots of salad all inside a Baker Street Original Burger Bun.
National BBQ Week: Chocolate Burger
Yes you read that right, a chocolate burger! This is definitely one of our wackiest combos, but we love it. Using a normal beef burger, fill the centre with chocolate before grilling. Stack your burger bun as your normally would before cutting in half and letting the chocolate ooze out. We promise it's delicious!
National BBQ Week: Banana, Mars Bar and Marshmallow Hot Dog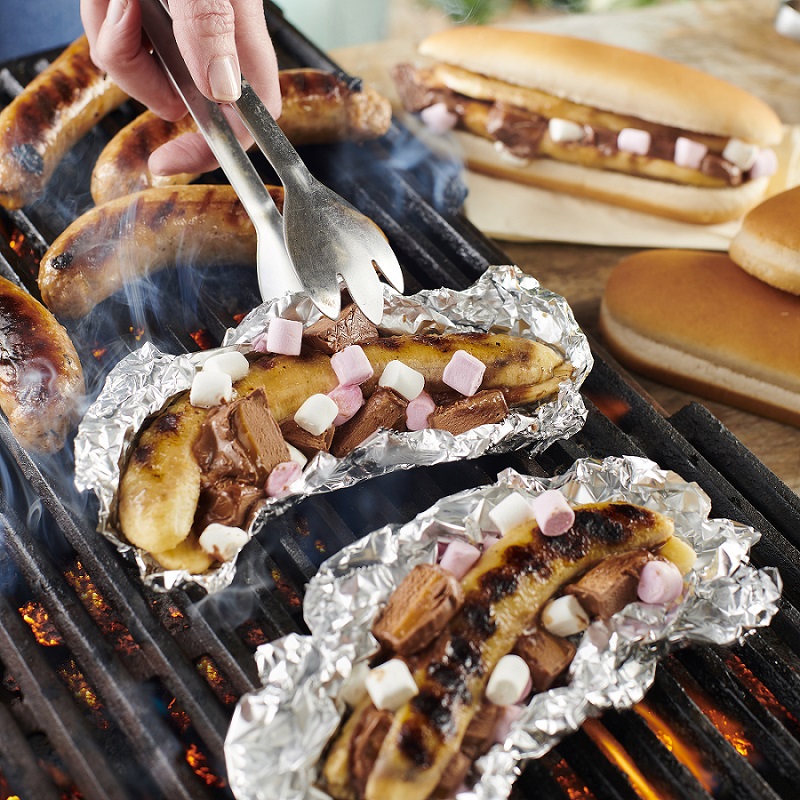 Who says BBQs are just for savoury foods? Wrap a banana in some tin foil, along with mini marshmallows and a chopped up Mars Bar and place on the BBQ. Once the chocolate has melted and the banana is hot, place inside a Baker Street Classic Hot Dog Roll and enjoy a sweet spin on a hot dog. That's a hot banana if we've ever seen one!
If you try any of these BBQ ideas be sure to take a photo and tag us @lovebakerstreet on Facebook or Instagram.