BwahhHAHaahhaHAaaa. We're back on the Baker Street blog! Unlucky for you, we're having way too much fun to leave you mere mortals just yet. We wanted to share some of our favourite eerie-sistable recipe ideas with you, that you need to try this spooky season.
Whether you're hosting your own Monster Mash or just want a super scary lunch, we've got some fang-tastic recipes for you to make.
Halloween Recipe Ideas: Grave Toast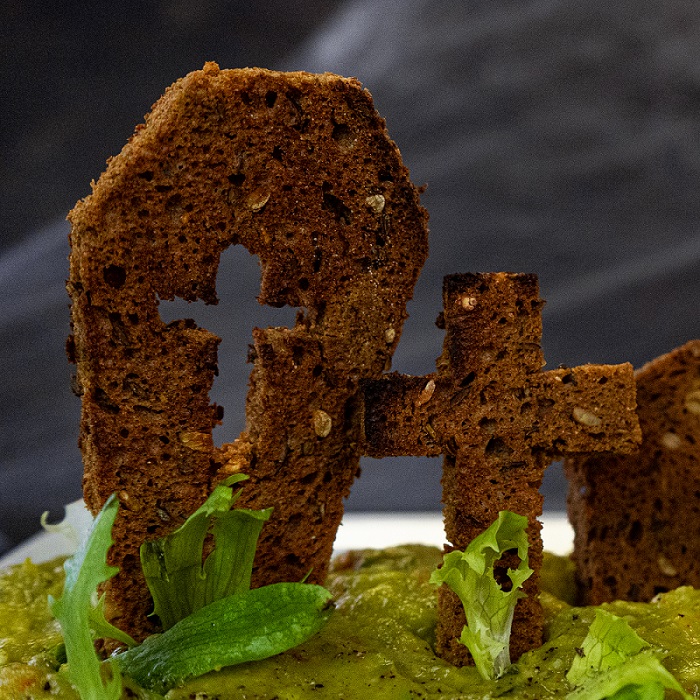 We love to serve this R.I.P and dip snack. We've used toasted Baker Street Rye Bread for ours, but feel free to use real gravestones if preferred.
Halloween Recipe Ideas: Franken Toast
View this post on Instagram
Bread is a little too dead for our liking, so we're bringing it back to life with the help of our mate Dr. Frankenstein. He's the best grain surgeon in town.
We've smothered some Baker Street Sliced Loaves in guacamole and used veggies to create the scary faces! What will you bring to life with your Franken Toast?
Halloween Recipe Ideas: Tomb Toast
Tomb Toast… just like mummy used to make. Mix together some softened butter, herbs, garlic powder, seasoning and a dash of oil. Spread this all over some Baker Street Classic Hot Dog Rolls before adding some cheese and olives for eyes. Grill for a couple of minutes and they'll be ready for the after loaf.
Halloween Recipe Ideas: Spooky Toast
You think the living dead are creepy? Imagine the living bread – the world would be toast in days.
Using Baker Street Sliced Loaves and fried eggs to create the eyes and another slice of bread to create the fangs, just make sure you eat it before it eats you!
Halloween Recipe Ideas: Spiderweb Soup & Mummy Toast
You'd better not be soup-erstitious if you try this lunch mere mortals. Two slashes of toasted Baker Street Sliced Loaf smothered in tomato puree and wrapped in cheese bandages, served with spiderweb soup, our favourite.
Halloween Recipe Ideas: Monster Burgers
Watch out mere mortals, these burgers bite back! Using a Baker Street Original Burger Bun and your favourite burger, create teeth and tongues out of cheese and pickles and use some olives for eyes. It's ALIVE!!
Halloween Recipe Ideas: Hot Dog Fingers
Mind those fingers, you don't want them being mistaken for a hot dog! A spooky classic, sausage fingers in Baker Street Classic Hot Dog Rolls topped with blood, or ketchup for you mere mortals.
Think you're brave enough to try out these spooky recipe ideas? Don't forget to snap a pic and tag us in your creations @lovebakerstreet on Instagram and Facebook.